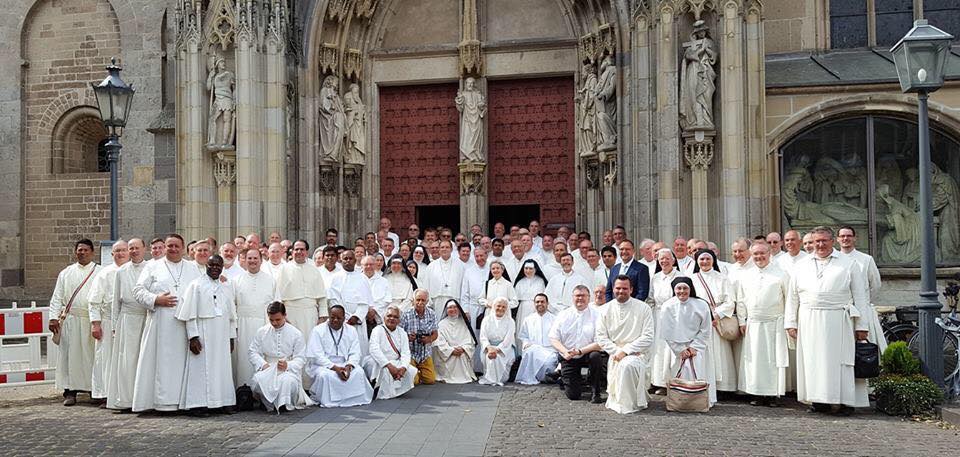 About us
We are the Canons Regular of Prémontré, also known as the Premonstratensians, Norbertines, or White Canons (in the British Isles). We are a group of Roman Catholic priests, brothers and sisters. Our Order was founded by St. Norbert in the early 12th century, at the dawn of the great reform movement of the high middle ages in western Europe.
We lead communal lives in Priories and Abbeys following the Rule of St. Augustine, yet involve ourselves heavily in activities outside of our houses.
Currently (2012) we number just over 1,300 members, of which includes priests, sisters, brothers, deacons and novices. At this time we are present in the following nations: France, Belgium, Netherlands, Britain (England), Ireland (Republic), Denmark, Germany, Spain, Italy, Austria, Hungary, Czech Republic, Slovak Republic, Poland, Romania, Switzerland, Russia, United States of America, Canada, South Africa, Democratic Republic of the Congo, Brazil, Peru, India and Australia.
We strive to live with the tensions that are associated with the relationship between contemplation and action, community life and apostolic service.
Norbertines profess:
      Poverty that demands simplicity of life and the sharing of our lives and talents with each other and with those we minister to
      Consecrated celibacy that opens us to growth in the Spirit in union with others
      Obedience that opens us as fully as possible to God's will
As 'canons' we are dedicated to the dignified and public celebration of the Eucharist and the Liturgy of the Hours (Divine Office) in choir each day.
By virtue of our baptismal call and by means of our vowed life as Canons Regular, we serve the needs of the local church through our common ministry to the poor and marginalized, the young and the old. Locally, this ministry — as a community serving local communities — has found expression in our educational apostolates on the elementary, secondary and collegiate levels. Norbertines serve in these institutions as teachers, professors, administrators, counselors, campus ministers, financial officers, and in governance as board members and trustees.
We serve in parishes entrusted to the Order, and provide pastoral assistance to pastors of diocesan parishes. Our men are engaged in sacramental celebration and pastoral care at area healthcare facilities including hospitals, nursing homes and retirement villages. Further away, our men serve as chaplains in various branches of the American Military Apostolate and in foreign and medical missionaries established by our community. Closer to home, some of our men minister to the Norbertine Community itself as abbot, prior, house superior, provisor and directors of formation and vocation.